Entries tagged with social media
Total perspective vortex: One second of social media
September 6th, 2014
It's no wonder you're feeling a little overwhelmed by social media
I came across this infographic today, outlining just how much information is uploaded, shared or transacted on social (and social-related) media every single second, and the first thing that came to mind was the Total Perspective Vortex from Douglas Adams' Hitchhiker's Guide to the Galaxy.
In the words of Wikipedia:
"The machine produces a virtual reality model of the entire universe by means of the axiom that any piece of matter is affected by all other matter. The Vortex reconstructs the universe through computer processing of a high-resolution scan ("extrapolated matter analysis") of a piece of fairy cake. When you are put into the Vortex you are given just one momentary glimpse of the entire unimaginable infinity of creation, and somewhere in it a tiny little mark, a microscopic dot on a microscopic dot, which says, 'You are here.'"
And when you are forced, suddenly, to grasp the impossible hugeness of the universe and your own, infinitesimally small part within it, your mind explodes.
It is "...allegedly the most horrible torture device to which a sentient being can be subjected."
In other words, I know it can be difficult to think about just how much stuff (information, photos, opinions, websites, likes, transactions, pingbacks, videos, songs - etc.) is being uploaded to Teh Interwebs every second of every minute of day, but sometimes we just have to look it in the face and decide that it's going to make us try harder to be relevant.
And that is my motivational advice for the day.
I found this great infographic here.
---
Ah, memories: 10 years of social media
July 8th, 2014
Not sure whether to feel like an early adopter or just old
You know, when I post these infographics that I find on other sites, I really try to offer some insightful commentary about them. That way it's not so much that I'm stealing them as sharing them.
But I don't have a whole lot to say about this one, except that I - as a person who can remember when we stopped saying 'social networking' and started saying 'social media' - like looking at timelines like this. I'm not sure why, since it only reminds me just how much time I've spent (wasted?) on social media in the past 10 years. (Though I will admit to taking some pride in knowing that I was among the first 700,000 people to sign up on LinkedIn, back when you still had to spend 10 minutes explaining to people what it was.)
And of course there is my usual caveat, which is that it can be dangerous to trust the numbers on an infographic. I mean, MySpace may still have 36 million registered users from people who signed up in, like, 2003, but I'm pretty sure you'd have a hard time finding a single person you know who'd actually visited MySpace in the past 3 years.
But anyway.
---
The disastrous catalogues: What do they really mean for Restoration Hardware?
June 30th, 2014
Maybe it doesn't matter if the twitterverse and blogosphere are alight with fury
You've probably heard about Restoration Hardware's recent infamous catalogues: Since early May, RH has been sending out bundles of its 'source books', each weighing 12-17lbs, depending on the assortment. (A 12lb bundle arrived here, though I can't remember the last time we bought anything from RH, and in fact I've always hated their insistence on using US dollar pricing in their catalogues.)
Here's an example - this is the 15lb bundle:
Predictably - at least to anyone living in the real world, which apparently excludes everyone on the Restoration Hardware marketing team - the internets were quick to respond with derision, mostly on environmental grounds. The twitterverse has seen a more or less constant stream of 'WTF?' and 'Are you kidding me?' tweets for 6 weeks or more, and even die-hard RH fans were left dismayed and disappointed by the whole thing. There are several Facebook groups and pages calling for the abolition of RH catalogues. In Palo Alto, residents organized a mass return of the catalogues to the local store, dumping 2000lbs of the 'source books'.
All the catalogue bundles were accompanied by a message about how even though they seemed big, they actually had a lighter carbon footprint: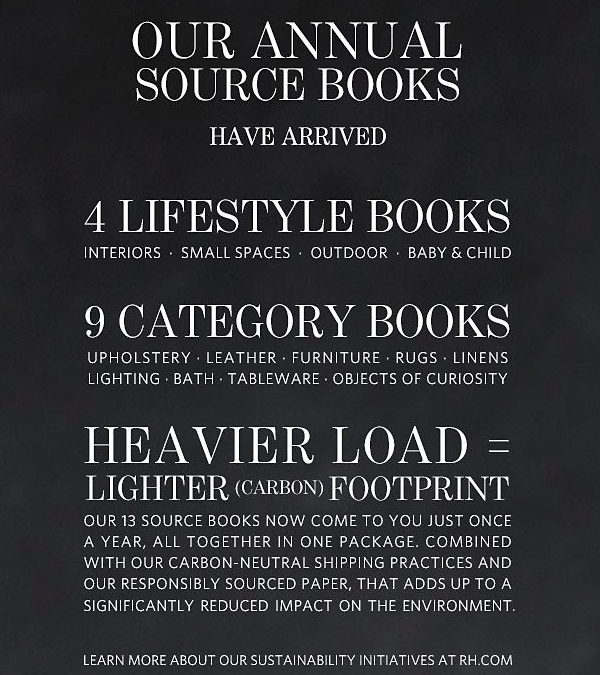 ...except Ben Elgin at Bloomberg did some research and discovered that RH's 'sustainability' claims were dubious at best.
With social media buzz this bad, it's time for damage control, right? Maybe not.
Received wisdom - well, received wisdom amongst marketing and media and innovation and 'disruptor' types - is that social media is Powerful and Relevant and Resonant, and that it's imperative that when you get this kind of negative reaction, you need to start doing hard-core damage control. You need to get a dedicated Twitter account going to respond to criticism, post a heartfelt and sincere mea culpa on your website, make a large donation to some kind of environmental charity - heck, maybe you should start a whole division dedicated to the elimination of paper-based catalogues worldwide. Because otherwise people will Abandon Your Brand.
Restoration Hardware has done none of this. They've largely ignored the social media frenzy, and have consistently dodged questions even from mainstream media.
In fact, they've doubled down: In 2012 they were criticized for a 992-page catalogue - which was bigger than 2011's 600+-page version - and ignored that criticism as well.
Negative social media doesn't mean declining sales
With 3+ years worth of catalogue criticism behind them, and sustained outrage on various social media channels, Restoration Hardware should be seeing declining sales, as consumers flee from a retailer so clearly out of touch, shouldn't they?
As it happens, they're reporting a 20% growth in revenue, beating estimates. A couple of weeks ago, TheStreet,com reported that "RH stock [was] spiking". NASDAQ.com says they're "[Hitting] new high[s] with grand designs". And they're still getting sympathetic coverage in home decor media. (I do think it's interesting that the Restoration Hardware site hasn't posted any media coverage in a couple of years, but there could be any number of reasons for that. Even big companies forget to update their websites sometimes.)
What does this say about the power of social media for brands?
Look, I love social media, and I believe in it. Heck, I get paid to help clients manage their social media and content marketing efforts - and while I may be jaded and cynical, I'm not so far gone that I'd take money from clients for social media management if I actually thought it was a waste of time. I think social media can be a great way to increase brand awareness, improve brand credibility, deliver long-term nuanced messages, and provide great CRM.
However.
We have to admit a few things:
People who are prepared to spend $5200 on a sofa tend not to be spending a whole lot of time in the twitterverse or blogosphere - they have assistants who do that kind of thing
People who are prepared to spend $12,000 on a rug often have more than one SUV in the driveway, which would tend to indicate they aren't necessarily all that concerned with the environment
Many consumers are quite comfortable saying one thing ("Restoration Hardware is terrible for sending those catalogues! I'm totally never shopping there again!") and doing another ("Oh, I got it at Restoration Hardware on sale - I love their stuff!") when the furore has passed
Social media can be a giant echo chamber: The people who are on it are really on it, but there are lots and lots (and lots!) of people who don't tweet, blog, pin or Instagram, so these brand 'scandals' just don't ever turn up on their radar
Now, I happen to think Restoration Hardware is playing a dangerous game here. I think that in the long-term they're going to find that a determined refusal to respond to critics - especially when that criticism turns up in mainstream media channels - is going to have an impact on sales. Their flimsy environmental claims may prove to be their Achilles heel in a world that increasingly demands transparency and authenticity.
However, in the meantime, I also think we have to acknowledge that perhaps social media isn't quite as powerful as people with 'Disruptor' in their job title would have you believe.
---
Good comparison of 6 social media networks [infographic]
May 4th, 2014
Continuing our focus on infographics this month...
Came across this infographic from Leverage New Age Media this morning and thought it was a great overview and comparison of 6 of the top social media networks.
However, I would encourage you not to get too fixated on the total active users numbers as the bottom of each one: It says that Pinterest has only 20 million active users (which I think is low), but we know that Pinterest users are particularly passionate, and spend hours of time flitting around Pinterest, so the potential to do a deep dive with the target audience is greater than on some other networks. We also know that while Google+ claims a lot of active monthly users, they're also including in those numbers anyone who watches a YouTube video via their G+ account or logs into a blog comment field with G+, or even just checks Gmail once in a while. So it may be a lot harder to reach those users than it seems.
Anyway, another infographic to brighten your Sunday.
---
A handy guide to choosing the right social media platform(s) for your brand [infographic]
April 29th, 2014
Not every channel is good for every brand, product or service.
Usually I have something to say about the infographics I post, but I think this one speaks for itself. I love the way the colour-coding makes it easy to compare demographics. And I like the media type matrix, though it does reveal a flaw in the way the information is presented: Google+ is indicated as the only channel suitable for photos, video, articles and text, which makes it sound great...except we all know that hardly anyone uses Google+. So you can post all the mixed media you want on G+ - it still won't deliver dramatic results.
---
Can something go 'slow viral'? Anecdotal evidence.
August 25th, 2013
(This is a slow loris. It's what came up when I hit Google Images for 'slow viral'. Not sure what this means.)
In 2011, Max and I tried to eat at the Boston Pizza just east of Yonge and Eglinton. I don't know why, with all the other restaurants in the area, we decided to go there - probably I said something like "Oh, I see these Boston Pizza places everywhere but I've never been in one. Let's try it," and Max, who's good about stuff like that, probably said "Sure."
We should have realized that something was wrong when we discovered that the place was almost empty, on a weekend night when all the other restaurants in the area are usually crowded. But we were already there, we were hungry, and sometimes we're just not that picky. When we'd been sitting at our table for 25 minutes without anyone even taking our drinks order, however, we decided we weren't that desperate, and we left. The two hostesses chatting at the front desk didn't seem surprised or disappointed about this turn of events.
In March 2012, we set out for dinner again. But it was a Saturday night at 8pm, and all the restaurants we tried had lineups - except Boston Pizza, so we tried again. This time, we had a very nice waitress and the place seemed a little busier. We decided maybe our bad experience in 2011 was an anomaly.
But - no. Max had pizza, about which he said: "Well, it's edible, but Pizza Pizza delivers better and it costs a lot less." I had spaghetti and meatballs (yes, I know, I'm no gourmand - whatever), which could best be described as boil-in-bag. Any Chef Boyardee product is better tasting, and about one-ninth the price. It was so bad I tweeted about it: "The only good part about dinner at Boston Pizza was the air freshener in the bathrooms."
A couple of Twitter followers commented (mostly along the lines of "Yeah, it's only good if you go there for pizza and beer after a softball game or something"). My Twitter feeds directly into my Facebook page, and I got some comments there, too, such as: "The only thing they make fresh is the pizza. Everything else is like military MREs - drop in boiling water, open bag, plate."
Cut to August 2013. Max and I are in Pembroke doing a grocery run for the cottage, and we pass a Boston Pizza. "I don't understand how a restaurant so bad could possibly have so many locations," I said to him (Wikipedia says there are 350 in Canada). And because I was in that kind of a mood, I tweeted it: "Hard to believe something so bad could be so prevalent. #bostonpizza". A couple of people on Twitter and Facebook indicated their agreement, but it didn't exactly blow up teh interwebs.
Then I promptly forgot about it. I mean, I was on vacation at the cottage and I have a 5-month-old baby - this August, I'm forgetting all kinds of things, most of which are much more important than Boston Pizza.
Imagine my surprise, then, when - a few days later - a couple of people actually mentioned it to me, in real life. "I saw that thing about Boston Pizza," they said. "Didn't you say something about them a while ago? What the heck happened with you and Boston Pizza?" >
Here's what I found interesting:
None of the people who mentioned it to me in real life are hard-core social media types. In fact, I'd assumed they never really paid attention to my (or anyone else's) status updates/tweets on a regular basis
None of the people who mentioned it in real life had commented on it online
It wasn't like I'd barraged the internet with a stream of Amanda Bynes-like commentary. Two mentions, over 18 months, was enough to make them take notice
It got me thinking...
I'm a big believer in the Feiler Faster Thesis, which says that these days, the media and its consumers can go from 'total ignorance' to 'oversaturated with information' on a given subject at lightning speed. It was originally coined to explain changes in political media coverage vis-a-vis the 24-hour news cycle, but I think it's a useful concept for all kinds of media, including advertising. So as a general rule, I'd say that if you want something to 'go viral', it's going to happen swiftly and then be replaced, just as swiftly, by the next viral thing.
However, my Boston Pizza experience got me thinking that perhaps there's such a thing as the 'slow viral'. My comments about Boston Pizza did 'go viral', but not quickly and not as a result of an all-out, sustained effort. The question, to me, is: Does a slow viral message, by virtue of its longevity, ultimately have more effect on purchasing decisions than a short-sharp-shocked viral message?
The trouble with my 'slow viral' theory, of course, is that it's absolutely unmeasurable. There are no clickthroughs, no lively comment threads, no mainstream media coverage, and connecting a social media comment of March 2012 to a purchasing decision in August 2013 is nigh-on impossible. But I think it might be time for brands to measure social media's effect on sales over longer periods than they have been hitherto.
NOTE: I was (pleasantly) surprised to receive a (prompt) response to my August tweet from Boston Pizza: "Hi Sarah, happy to hear any feedback. Are you referring to specific visit? Pls email Dakinsb@bostonpizza.com." I've sent him a link to this post - I'll let you know if I hear anything.
---
How Zynga has killed Facebook games
June 16th, 2012
There's a big difference between 'word of mouth' and 'enforced spam'.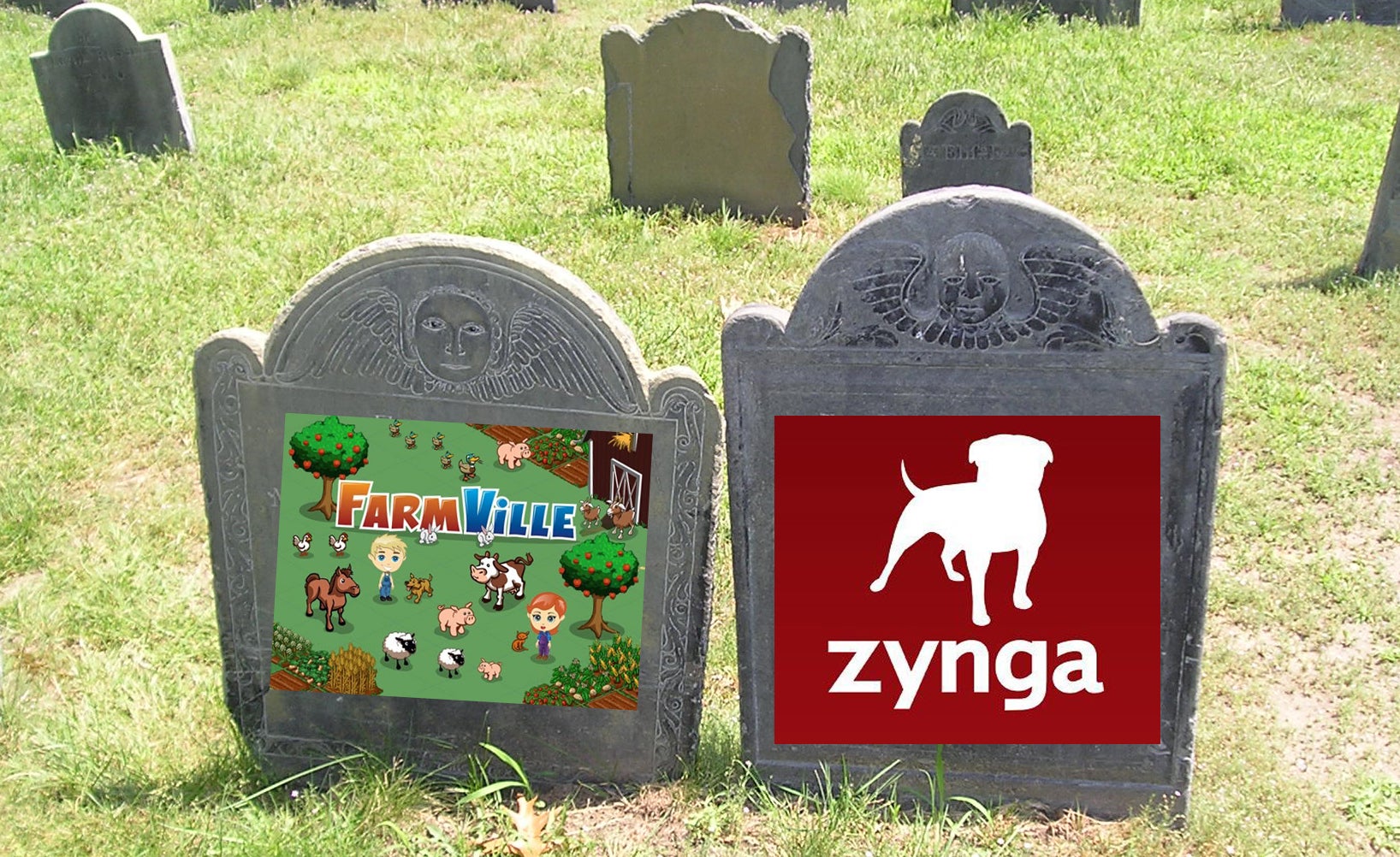 (Image via this site.)
Christmas of 2009 was when I first got a little obsessed with Zynga games. My cousin had been killed in Afghanistan on December 23, and the holiday season wasn't exactly filled with joy. I found myself spending the week between Christmas and New Years sitting at my computer, numbing my brain with Farmville.
To me it was a lot like the Lego I loved as a kid: I leveled up to a huge farm and really liked arranging the various 'items' in optical-illusion mountains and rivers and estates. I admit I spent money - probably $100 over the course of that Christmas holiday.
What I didn't like was Farmville's incessant demands to push the game to my Facebook friends. You couldn't so much as sell a virtual sheep without a pop-up asking you to 'share' the big event with everyone in Facebook, and even spending money didn't keep the game from demanding you 'invite' friends to do stuff in order to progress to other levels.
I'm quite sure that I lost Facebook friends over this, because many people found it easier simply to 'unfriend' me than to 'turn off all Farmville notifications' on their timelines.
Eventually I was sucked into CityVille and CastleVille, too, until, like an addict, I finally got so disgusted with myself that I deleted them all.
However, I'm still getting notifications from CastleVille, because apparently deleting the application from your Facebook apps isn't enough - Zynga continues to store your information on their servers and despite 15 minutes of searching, I still can't figure out how to delete my information from those servers.
Zynga has always been a bit evil
If you've been following Zynga for the past few years, you know that they've always had a sketchy track record. Founder Mark Pincus, accused of unethical spamming in 2009, famously admitted that they'd do "anything" to drive users and revenue.
And for a while, this approach seemed to work: With tens of millions of users and a December 2011 IPO that reached almost $10 billion, Zynga looked like the first Facebook-based games company to achieve big success.
However, the market doesn't love 'evil' for long:
(Image via this site.)
CityVille, CastleVille and FarmVille have all lost half their users in the past 6 months, and they've taken half of Zynga's share price with them, now at $5 from a high of $10.
What's happened?
Industry analysts are suggesting that the decline of Zynga is a signal that the golden age of Facebook-based games is over, and point to recent DAU (daily average users) statistics as proof:
I've seen plenty of commentary saying that the reason for this widespread decline is because users are increasingly moving to mobile games that they can play on their iPhone or Android. But I'm not so sure: Zynga's sweetspot for the -Ville games was always women in the 40+ category, and they're not the ones migrating to iPads en masse.
No, I think the problem is embarrassment. It's simply become too embarrassing to play Zynga games on Facebook, because you know that everyone hates getting notifications about it in their newsfeed, and it's almost impossible to completely 'hide' your playing patterns from all your friends. It's hard to really enjoy playing a game when you can't feel good - or private - doing it.
What's more, Zynga relied on continual Facebook feed-spamming to attract new users; now that active users are reluctant to let anything hit their timeline, and non-users have blocked as many notifications from the games as they can, there's no top-of-mind awareness to drive new users.
So what have we learned?
I think Zynga's rise and fall has some good lessons for marketers in the age of social media:
Spam only works for so long. You can achieve initial success by relentlessly pushing your message to uncomfortable levels, especially if you're delivering a decent product (and the Zynga games are well-designed, for the most part). But eventually both your users and your non-users get fed up
When your brand starts being embarrassing, you have a problem. In the absence of spam, you have to rely on word-of-mouth. If people are embarrassed to say they're using your product, you can't generate the word-of-mouth you need to keep growing
Long-term credibility is better than short-term hype. I'm quite certain that Mark Pincus et al thought, in December 2011, that they were business geniuses. After all, their "we'll do anything for traffic" approach had driven them to a multi-billion-dollar valuation. But now they've got a big problem, because it's going to be harder for them to attract new users to new games, whether they're Facebook- or mobile-based
One bad apple can ruin the whole category. It's my opinion that Zynga is almost single-handedly responsible for the decline in usage of other Facebook games: Zynga's spamming tactics have made everyone wary of allowing any games to access their timelines - so it's harder than it used to be for new games to get traction.
---
GM says its Facebook advertising didn't work. So what?
May 16th, 2012
Measuring marketing success is like quantum mechanics:
How long is a piece of string?
I have borrowed this image of Alan Davies tackling that old physics chestnut, "How long is a piece of string?", from an interesting site called BrainPickings.org, which I encourage you to check out for all kinds of reasons.
With the Facebook IPO in full swing, it's not surprising that when GM said they were pulling $10 million worth of advertising spend on Facebook, the financial press took note. And of course there was no shortage of commentators ringing the alarm bells about the imminent demise of Facebook's ability to monetize.
I can't help but think of department store magnate John Wanamaker's famous comment, circa 1912: "I know half my advertising dollars are wasted. I just don't know which half."
Marketing works.
It's just sometimes hard to know how or why, and social media is no exception.
The worst part about working in marketing is that 2+2 almost never adds up to 4. Sometimes it adds up to 3, sometimes 10, sometimes a vivid shade of yellow. Anyone who tells you otherwise is either naive or the kind of person who calls themself an 'SEO Ninja' and thinks everything can be measured in clickthroughs.
And therein lies the problem.
Before the internet, we had to measure most advertising exposures in GRPs (gross ratings points), which is essentially a way to measure reach (how many people saw/heard your tv/radio ad, saw your billboard, etc.) and frequency (how many times they saw it). You might spend $1 million buying 400 GRPs for 8 weeks for your billboard campaign, but you really had no way to determine whether all those people speeding past your billboard on the highway were actually looking at your billboard, registering the message, and then making a purchasing decision based on it.
In the meantime, of course, you were probably spending money on other initiatives like tv ads, print ads, direct mail, promotions - all of which have varying degrees of measurability when it comes to purchasing decisions. The only way you could really know whether your efforts had been successful was to wait until the campaign was over and hope there'd been a demonstrable uptick in sales.
The people who say that social media marketing dollars are 'wasted' if they don't generate the right clickthroughs - and there are lots of them - have forgotten that marketing success is generally a result of a complex alchemy that happens when you reach your target market in multiple ways, via multiple channels, over a (sometimes long) period of time.
Why GM's decision isn't that momentous
Though the GM's announcement made headline news, it really isn't that significant in terms of Facebook's long-term prospects or GM's overall strategy, and here's why:
It's a drop in the bucket
Worldwide, GM spends $1.7 billion dollars in advertising every year. They're still spending $30 million on Facebook 'marketing' - they're just not spending $10 million in paid ads. That sounds like a lot to us regular people, but it's nothing for a big-budget advertiser like GM.
Clickthroughs aren't everything
Much has been made of the stat that 83% of people say they don't click through Facebook ads. I'd say the number is probably even higher, but it doesn't matter: No one clicks through billboards or magazine ads, either, but that doesn't mean they don't drive brand awareness, equity or sales in the longer term.
You can't get a 'conversion rate' on buying cars
People who advertise online like to talk about 'conversion rates': The percentage of people who clickthrough your ad, then make a purchase on your site. This can be an excellent measure of success if you're trying to sell something on, say, Amazon. It's never going to work for cars, because almost no one is going to buy a car via a website.
We don't know enough about GM's overall media mix
A senior marketing exec from McDonald's once told me that it takes 4-7 'touchpoints' (interactions with the brand via different channels) in order to get someone to buy an order of large fries. If that's what it takes to generate a $2 purchase, imagine what it takes to generate a $35k purchase of a car.
GM themselves probably don't entirely know what works
Once GM realized that its announcement had caused an uproar, they hastily released a statement about how they regularly review their marketing mix and make adjustments. I believe them: All large advertisers make changes to their media mix on an ongoing basis, based on new information or a change in focus or whatever. GM isn't abandoning Facebook altogether, and plenty of other carmakers are still spending money on Facebook ads.
The bottom line
There's a reason that advertisers are increasingly turning to neuroscience to understand buying behaviour: 95% of human decisions are made by the subconscious mind, so even when you ask people directly, they simply can't tell you why they made a particular purchasing decision. GM's decision to pull a very tiny fraction of their budget from Facebook tells us almost nothing about the true efficacy of Facebook advertising.
---
What's the Point of Twitter, Anyway?
April 28th, 2012
An intro for newbies. Or sceptics.
(I have borrowed this image from a blog called 'Tony Hannan's Compendium of Games'. I'm not entirely certain what it's about, but that's probably because it has a lot of sports references in it.)
These days, I increasingly find myself being hired to manage other people's Twitter accounts, or to advise them on how to get started on Twitter (and other social media channels) to help promote their personal brands or their companies. You may find this odd, since at only 2300 Twitter followers I hardly qualify as a super-user, but I happen to be one of those people who think that it's not really about quantity. If I followed back every bot, hotsexyorgy.biz account, #teamfollowback person and people with bizarre profiles like "Yooo!! Follow Me && My Twin 100 Mfs Cant Tell Me NOTHING! S| KayMichelle.", I'd definitely look a lot more popular - but I'm not sure I'd be doing anything for my brand or my business.
Twitter has become a lot more socially acceptable than it was when I set up my first account back in 2008. Sure, your friends' statuses on Facebook could be amusing, but a whole site - a whole app! - based on 140-character status updates? Admitting you were on Twitter almost always got you a comment about how stupid it was to be telling everyone what you had for lunch or that you'd just cleaned your garage.
Today, with 140 million active users, a track record of breaking news, and credited with furthering the cause of democracy by providing a voice for the previously voiceless, most people (grudgingly) admit that maybe Twitter has a legitimate role to play.
However, I'm still often asked about the 'point' of Twitter for the average person. This is what I say.
What Twitter can do for you
There's a lot that Twitter can do for larger organizations - customer service, crisis communications, customer engagement - but this particular list is focused on what Twitter can do for individuals, whether they're working independently or within a large organization.
1. Teach you stuff about what you do for a living
By following the right people, you'll get fed a steady stream of links to articles about trends, opinion, research and insight in your industry. This is especially helpful for people who are in business for themselves, or are part of a small department or a small company, where there aren't a whole lot of other people 'in the office' to learn from.
2. Virtually real-time news updates
In the past 2 years, I've learned about almost all the big news stories - from the death of Michael Jackson to the Japan tsunami to the death of Osama Bin Laden - via Twitter, because it lights up with relevant tweets almost as soon as something big happens. This is easier, and more immediate, than watching tv news or keeping the radio on 24 hours a day.
3. Connect you with thought leaders in your field
One of my clients had been trying to get on the radar of a 'famous' person in their industry for a couple of years, without success. But a well-timed interaction on Twitter, with a clever response, finally got them the recognition they'd been looking for. Now my client is being included in high-level industry events, invited to participate in committees - and they're well on their way to becoming 'famous' in their field as well.
4. PR/media opportunities
Media types are all over Twitter - that's often where they're getting their hottest news tips. When they're looking for sources for a story, they turn to high-profile tweeters. And I've participated in quite a few online radio shows because of a connection made via Twitter. Online radio and podcasts aren't going to make you famous overnight, but they add up and you never know where they might lead. Tweeting smart commentary can also lead to invitations to write articles or posts for other publications.
5. Improve your Google ranking
Whether they admit it or not, potential clients almost always Google you before you walk into their boardroom to make a pitch. If you haven't got a lot of web-based content out there, an active Twitter account can help.
6. Build an audience for your blog/website
You want to increase traffic to your blog or website, but with only 150 Facebook friends and 250 LinkedIn connections, how do you spread the word? Twitter gives you access to a much larger potential audience, for much less money, than any other channel.
7. Build your brand
Much of what I've already said, above, are components in building a personal brand. Twitter is especially helpful in brand-building because it allows you to infuse your professional commentary with personality - which is crucial in creating a differentiated brand.
8. Promote your events
Many of my clients host networking events or webinars as part of their client relationship management programs. Twitter is an excellent way to get beyond your existing database of 'prospects' and reach a larger audience. You never know when a retweet by someone with 75k followers will suddenly make your online event the hot topic of the week.
9. Competitive intelligence
Twitter is an excellent way to find out what your competitors are up to - but of course they may be keeping an eye on what you're up to, as well!
10. Building credibility
Ultimately, credibility is really a function of multiple touchpoints + relevant content + time. Tweeting consistently relevant content (i.e. getting a reputation for tweeting about industry-related news and insight) will, over time, get you a reputation as someone who knows their business and can be counted upon for up-to-date information - especially when it's done in conjunction with a blog and other channels.
11. Advice and input
Looking for a new employee or supplier? Asking for recommendations on Twitter can get you good information. Looking for a case study or resources or participants in an opinion poll? Twitter can be a great way to get input.
12. Random, interesting stuff
Most of the time, I follow people who are in my field: Branding and marketing types, designers, writers, etc. But it's amazing what you can learn and discover when you follow people who are just plain interesting. Sometimes I get directed to a new invention, a new scientific study, or a hilariously written blog. Twitter is a great way to discover new things that you'd never otherwise know about.
---
The numbers - and the 'gurus' - may be lying
March 2nd, 2012
This guy has 650k video views. But hardly anyone has seen this video.
You don't have to watch more than 15 seconds of this video to know it's horrible:
The sound and video quality is terrible, the subject matter is boring, the guy is a bad speaker...and yet somehow he's had more than 650k views in less than 2 weeks.
But he says he's a 'social media expert', so maybe he's got this worldwide following or a book or a website or something, and you just didn't know about him yet, right? Wrong. He doesn't even appear to have a website - there isn't one listed on his YouTube profile, and my very best Googling has failed to turn up anything about this guy. I can't even find him on Twitter, though to be fair there seem to be about 150 'Daniel Cohens' there, and some don't have pictures or profiles.
What he's got is some kind of hackery that YouTube hasn't figured out yet, and here's how I know: When you click the 'insights' button on the YouTube page for this video (it's the little bar graph box to the right of the view count), it says:
99.9% of the views happened on the first day the video was posted
All of them came from a mobile device
The demographics were exclusively 'male, 35-44 years old'
All of this points to some kind of technical trickery that allowed him to artificially inflate his views. I do know that videos which are genuinely popular - like this Shaytards video - show a much more varied view source, demographics and timeline.
(NOTE: As I write this, I see that Daniel Cohen has now turned off the ability to see the insights on his videos. But almost all of his other 37 videos have fewer than 100 views, which tells me that he hasn't got any kind of 'following' or loyal audience.)
Big numbers doesn't mean anyone is actually paying attention
As far as I'm concerned, the minute someone tells you they're a social media 'expert', 'guru', 'ninja' or 'visionary' because they've got big numbers, you should run the other way, for 2 reasons:
Anyone who really knows anything about social media knows that the landscape is changing every minute, so being a 'guru' is next to impossible
Getting a whole lot of followers, friends, views or 'pins' isn't the point of social media. It's what you do with those followers, friends, views and pins.
Daniel Cohen may have 650k 'views' of his video, but if they've all been generated by his army of minions in a room in Bulgaria, no real people are actually seeing the thing. He's not selling anything, he's not driving traffic to a website which is selling anything, he's not increasing his influence or opportunities for paid speaking engagements or media coverage - which means he can't sell anything for you, either.
---
Why Facebook shouldn't be separate from your other social media
February 1st, 2012
This is the control panel for a Winnebago. But I thought it was a nice metaphor for having your social media channels managed from one central, delightfully wood-panelled, location.
These days I find myself doing a lot of social media consulting, usually helping small businesses start using social media. And the first question I'm always asked is: "What social media channels should I be using?"
99% of the time, my answer is the same: Start with the trifecta of Twitter, LinkedIn and Facebook.
"I get that I should be using Twitter and LinkedIn," they say. "But Facebook? Isn't that just for personal stuff, like friends and family? I don't want the world to see my family pictures. That's not appropriate for my business. And Facebook can't help build my business anyway."
When you're a small business, you are your personal network
The thing is, when you're a small business owner, much of your business is going to come from your personal network. Your sister-in-law, the guy you shared an office with 10 years ago and still keep in touch with, the neighbour you always hang out with on Friday nights when your spouses have other things to do - these are people who are often in a surprisingly good position to refer you, your business and your product to others. And they're likely to be surprisingly enthusiastic about you.
In fact, they'd probably recommend you to more people more often if they could remember what you do and that you're doing it - and that's where Facebook can help.
For example: The other day, a friend from grade school posted a note on Facebook about how she was having trouble with her nanny. I don't speak to her on a regular basis, and she lives in another country, so without Facebook I wouldn't have known that she was having an issue. As it happened, my cousin-in-law, who runs a babysitting business, had just posted a note about how her company can help find nannies in that area. So all of a sudden I was able to connect my friend with my cousin-in-law's business.
It wouldn't have happened on Twitter (since my Twitter feed is too busy and my grade-school friend isn't on there anyway), and it definitely wouldn't have happened on LinkedIn (since 'trouble with nannies' isn't the kind of content that tends to find a place on LinkedIn).
If you aren't linking Facebook to your professional profile, how will these kinds of connections happen?
Stop worrying about the invasion of your personal life
Guess what? The convergence of your personal and professional life has already happened. If you're a small business owner who's been out there doing small-business-owner things like meeting people, attending events, publishing articles and making contacts, your personal life isn't a mystical secret. Anyone with 30 minutes and some basic deduction skills can find out a lot about you, and can probably find a whole heap of photos, too.
This is a good thing. You want to be accessible; you want to turn up in Google searches. The more findable you are, the more credibility you have. And unless you've been a complete idiot, and posted a whole slew of photos of yourself doing jello shots off the naked torsos of strange men, attaching your Facebook profile to your personal brand - and associating it with the company you lead - isn't going to be a problem.
When you're too private, people wonder why
The other day I wrote about how authenticity and transparency in advertising isn't as popular as the gurus would have you believe. However, where they're right about transparency is when it comes to personal branding, and when you're a small businessperson, personal branding is everything.
Before you ever get into a meeting with a new client, someone in the decision-making chain is going to Google you. If they can't find much information about you, they're going to assume you're not as prolific, influential or important as you want them to think you are. They're simply going to wonder why someone who calls themselves an 'expert' only has 3 search returns. Facebook can increase your searchable content volume while you're building up your other channels - and that can be a big advantage.
---
How Social Media is Ruining Our Minds
January 9th, 2012
I do love a great infographic.
---
Frankly, ChapStick needed a little scandal.
October 27th, 2011
When was the last time you bought Chapstick, anyway?
Is it possible you missed this week's blogosphere scandal?
ChapStick posted the ad above, a couple of (female) bloggers decided it was sexist and offensive. Not a huge deal, except then ChapStick apparently started deleting negative comments about the issue from their Facebook page, which got everyone really upset.
Suddenly it was such a big deal that even Forbes and the Wall Street Journal - who couldn't possibly be looking to cash in on the short-term traffic spike, could they? - felt it necessary to report on the issue. Adweek referred to the whole thing as a "death spiral".
Please.
Samantha Ettus of Forbes said that the ChapStick brand has been built on the strength of female athletes like Suzy Caffee and Dorothy Hamill - but what she (and everyone else) seems to forget is that the lipcare marketplace has changed in the past 10+ years, and has changed a lot since the 1970s when Suzy Chapstick was first introduced.
An aging target market has a limited lifespan
It's great if you can keep the customers you acquired in the 1970s, but ChapStick has a problem, which is, interestingly, contained within one of the offended bloggers' posts:
"I have used your brand for 25 years, ever since my mom put my very first tube of ChapStick in the bib pocket of my snowpants before heading out for an afternoon of sledding....I have used your brand on my own children...."
Her kids may be using ChapStick now, but you know what's going to happen: As soon as they can buy their own lip balm, they'll reject what Mum bought them and head for more 'adult' lip balms.
That's exactly what's happened to ChapStick: While the lip balm category has grown by 12%, ChapStick sales have fallen by 2.6%, while newer, 'cooler' brands like Burt's Bees have grown by double digits.
(And that doesn't include the lip gloss revolution. Ask any girl or woman under 30 and she'll tell you she's got a lip gloss stockpile that far outpaces her lip balm collection.)
You can only coast for so long on squeaky-clean sports figures.
"I kissed a girl", and other ways to make ChapStick more interesting
Some sources have suggested that Katy Perry's Cherry ChapStick shoutout in her "I Kissed a Girl" song triggered sales increases of 50% for cherry ChapStick. And it wasn't like that song was without controversy.
So you're a marketing strategist for ChapStick. You see that being associated with older sportswomen is leading to shrinking sales, but being associated with pop culture is getting you more attention than you've had in years.
What do you do? Continue with the status quo advertising you've been doing since the 1970s, or try something a little different?
Right.
To be honest, I have no problems with the advertisement above. I don't find it sexist (I'm far more offended by popstars and their ubiquitous naked body parts), and I happen to think it's clever (because aren't we all finding tubes of lip balm in odd places, 2 years after we lost them?).
More importantly, I think ChapStick has actually been pretty savvy here: The strategy ("Where do lost ChapSticks go?") is a good one for appealing to new consumers without alienating existing ones, and has a lot of legs.
No, they shouldn't have deleted comments from their Facebook page - censoring social media is always bound to get you in trouble - but in the long run I think the whole tempest in a teapot will go unnoticed by most of the target market, while giving them some much-needed top-of-mind awareness.
---
If social media isn't making you any money, maybe you're doing it wrong
May 18th, 2011
Part of what we do for clients is manage their social media channels. Twitter, Facebook, LinkedIn, blogs, YouTube - I'm a big believer in social media as a great way to generate buzz, keep your brand top-of-mind, build SEO through legitimate content development, communicate your USP, and all kinds of other good stuff. And I think just about every brand can benefit from social media strategies.
However.
I know an awful lot of people who are spending an awful lot of time on social media, installing all kinds of Twitter widgets and checking their Klout scores every 2 hours and hosting online radio chats for the same 5 participants every week...and who still aren't making a whole lot of money, either for themselves or for the companies they're working for.
Remember, ultimately, the whole point of social media (for businesses) is the same as the whole point of advertising and marketing: To make it easier to sell stuff.
Oh, I know you can't always draw a straight line from 5000 Twitter followers and $X in revenue, any more than you can draw a straight line from a billboard by the highway and $X in revenue. And I know there are side benefits from strong social media presences, like recruiting. And I even know that it's important to look at the long-term build - it can take months for a successful social media campaign to really have an impact on sales.
If you've been spending 15+ hours a week on Twitter for the past year, and haven't seen a sales increase of any kind, it may be time to ask yourself some questions:
Do I really know why we're doing this? In other words, do we have a strategy?
Can we point to any anecdotal evidence that our social media efforts have delivered an ROI? (Such as a new client first heard of us because of the buzz we'd built on social media, or that the best hire all year came to us through our Facebook page.)
Is our website traffic benefiting from social media via clickthroughs from social media channels?
When our salespeople call potential clients, are they increasingly saying "Oh, I've heard of you guys!"?
Is it easier for us/me to get meetings with potential clients?
Has our Google ranking increased? (Good social media content, and a long-term blog about your brand's industry, will push your rankings higher.)
Are our products/services less price sensitive than they used to be, thanks to increased brand equity?
Have we been invited to events and speaking engagements (as a participant or speaker, not a paying attendee!) as a result of the profile we've built via social media?
If the answers to at least a few of these questions are yes, then you're probably not wasting your time with social media, and the ROI should start showing up any time now.
If not...well, it's possible you're spending too much time on social media for its own sake, and not enough time thinking about what it's really supposed to do for the business overall.
---