What's the Point of Twitter, Anyway?
April 28th, 2012
An intro for newbies. Or sceptics.
(I have borrowed this image from a blog called 'Tony Hannan's Compendium of Games'. I'm not entirely certain what it's about, but that's probably because it has a lot of sports references in it.)
These days, I increasingly find myself being hired to manage other people's Twitter accounts, or to advise them on how to get started on Twitter (and other social media channels) to help promote their personal brands or their companies. You may find this odd, since at only 2300 Twitter followers I hardly qualify as a super-user, but I happen to be one of those people who think that it's not really about quantity. If I followed back every bot, hotsexyorgy.biz account, #teamfollowback person and people with bizarre profiles like "Yooo!! Follow Me && My Twin 100 Mfs Cant Tell Me NOTHING! S| KayMichelle.", I'd definitely look a lot more popular - but I'm not sure I'd be doing anything for my brand or my business.
Twitter has become a lot more socially acceptable than it was when I set up my first account back in 2008. Sure, your friends' statuses on Facebook could be amusing, but a whole site - a whole app! - based on 140-character status updates? Admitting you were on Twitter almost always got you a comment about how stupid it was to be telling everyone what you had for lunch or that you'd just cleaned your garage.
Today, with 140 million active users, a track record of breaking news, and credited with furthering the cause of democracy by providing a voice for the previously voiceless, most people (grudgingly) admit that maybe Twitter has a legitimate role to play.
However, I'm still often asked about the 'point' of Twitter for the average person. This is what I say.
What Twitter can do for you
There's a lot that Twitter can do for larger organizations - customer service, crisis communications, customer engagement - but this particular list is focused on what Twitter can do for individuals, whether they're working independently or within a large organization.
1. Teach you stuff about what you do for a living
By following the right people, you'll get fed a steady stream of links to articles about trends, opinion, research and insight in your industry. This is especially helpful for people who are in business for themselves, or are part of a small department or a small company, where there aren't a whole lot of other people 'in the office' to learn from.
2. Virtually real-time news updates
In the past 2 years, I've learned about almost all the big news stories - from the death of Michael Jackson to the Japan tsunami to the death of Osama Bin Laden - via Twitter, because it lights up with relevant tweets almost as soon as something big happens. This is easier, and more immediate, than watching tv news or keeping the radio on 24 hours a day.
3. Connect you with thought leaders in your field
One of my clients had been trying to get on the radar of a 'famous' person in their industry for a couple of years, without success. But a well-timed interaction on Twitter, with a clever response, finally got them the recognition they'd been looking for. Now my client is being included in high-level industry events, invited to participate in committees - and they're well on their way to becoming 'famous' in their field as well.
4. PR/media opportunities
Media types are all over Twitter - that's often where they're getting their hottest news tips. When they're looking for sources for a story, they turn to high-profile tweeters. And I've participated in quite a few online radio shows because of a connection made via Twitter. Online radio and podcasts aren't going to make you famous overnight, but they add up and you never know where they might lead. Tweeting smart commentary can also lead to invitations to write articles or posts for other publications.
5. Improve your Google ranking
Whether they admit it or not, potential clients almost always Google you before you walk into their boardroom to make a pitch. If you haven't got a lot of web-based content out there, an active Twitter account can help.
6. Build an audience for your blog/website
You want to increase traffic to your blog or website, but with only 150 Facebook friends and 250 LinkedIn connections, how do you spread the word? Twitter gives you access to a much larger potential audience, for much less money, than any other channel.
7. Build your brand
Much of what I've already said, above, are components in building a personal brand. Twitter is especially helpful in brand-building because it allows you to infuse your professional commentary with personality - which is crucial in creating a differentiated brand.
8. Promote your events
Many of my clients host networking events or webinars as part of their client relationship management programs. Twitter is an excellent way to get beyond your existing database of 'prospects' and reach a larger audience. You never know when a retweet by someone with 75k followers will suddenly make your online event the hot topic of the week.
9. Competitive intelligence
Twitter is an excellent way to find out what your competitors are up to - but of course they may be keeping an eye on what you're up to, as well!
10. Building credibility
Ultimately, credibility is really a function of multiple touchpoints + relevant content + time. Tweeting consistently relevant content (i.e. getting a reputation for tweeting about industry-related news and insight) will, over time, get you a reputation as someone who knows their business and can be counted upon for up-to-date information - especially when it's done in conjunction with a blog and other channels.
11. Advice and input
Looking for a new employee or supplier? Asking for recommendations on Twitter can get you good information. Looking for a case study or resources or participants in an opinion poll? Twitter can be a great way to get input.
12. Random, interesting stuff
Most of the time, I follow people who are in my field: Branding and marketing types, designers, writers, etc. But it's amazing what you can learn and discover when you follow people who are just plain interesting. Sometimes I get directed to a new invention, a new scientific study, or a hilariously written blog. Twitter is a great way to discover new things that you'd never otherwise know about.
---
The Best Ad I've Seen All Year
April 25th, 2012
Proof that the most creative advertising happens when committees aren't involved.
It may have taken 10 writers and 3 producers to come up with Jennifer Lopez's hit, "Jenny from the Block", but I've long been convinced that when you look under the hood of really fantastic, creative advertising - the kind that can't help but go viral - you'll find that it was the brainchild of one, or maybe two, people who didn't have to cater to a whole boardroom full of 'stakeholders'.
Behold:
This ad originally appeared on Craigslist (where it is, inexplicably, currently flagged for removal), but has gone viral simply because of its unadulterated creativity.
Turns out the ad is the brainchild of a couple of 23-year-old friends, Joe (the owner of the car, and an aerospace engineer) and Kyle (a designer who works in marketing). Actually, according to the interview with Jalopnik, I'm pretty sure the ad is almost entirely Kyle's brainchild.
I don't know where Kyle works, but I sure hope he just got a big raise and a promotion. I myself would be happy if I'd just written the copy for this piece, let alone been able to do the copy and the design. But the word 'Jesus' alone would have had this piece kicked out of contention in an 'agency' setting.
BONUS OPINION: While my kneejerk response is to wonder why 'big brands' can't do this kind of creativity, I do wonder whether one of the reasons this ad works is precisely because it's not for a big brand, and you know it was done by 'some guy' on his home computer, just for fun. I suspect that if a mainstream brand tried to do this, and tried to push it through broadcast media channels, it might come off as trying too hard - even if the copy and graphics were exactly the same. Hhmmm.
---
I don't even know what to say about this
April 23rd, 2012
Has 'stuffed crust' finally gone too far?
Normally I wouldn't just post an advertisement without having some kind of ostensibly insightful opinion to offer about it, but this new Pizza Hut Middle East offering frankly has me speechless.
For your delectation: The Crown Crust Pizza.
---
Oreo Breastfeeding Ad: Too much, or too sensitive?
April 21st, 2012
When are we going to stop having to talk about this?
So this week, Kraft Foods and ad agency Cheil Worldwide had to do some damage control when this ad, for "milk's favourite cookie", went viral:
The Mommyblogosphere lit up with rumours that this was a print ad designed for the Korean marketplace, but Kraft and Cheil quickly announced that this wasn't a real ad, only some kind of 'spec' ad they created for use at an advertising forum. (To be fair, having worked in agencies, I can totally see how an ad like this would have been trotted out in a limited forum as an example of Creative Thinking. And the Photoshop job on the hand holding the cookie is so amateurish that I can't imagine that it was ever intended for widespread use.)
Now, I'm no Mayim Bialik when it comes to breastfeeding - I think it's great if you can do it, but I'm not in the 'breastfeeding until the kid is 5 years old is your bounden duty as a mother' camp - but I have to say that what really bugged me about this particular tempest in a teacup is how many websites covered up the 'nipple' in the shot, like this: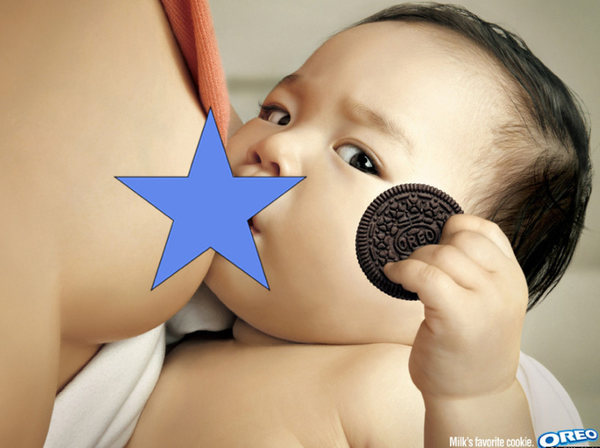 or even this:
Are we really still implying that a glimpse of some breast and a nipple in a breastfeeding context is somehow controversial?
We've seen this nonsense before
In 1992 I spent a month in England, and the big advertising story at the time - which I can't find online, unfortunately - was a big debate over whether commercials for feminine hygiene products should be shown on 'family' channels before the watershed hour (9pm, I think it was). The implication being that 8-year-olds shouldn't be traumatised (scandalized? confused? freaked out?) by having to recognize that women get their periods.
Just what we need: To raise girls who think that their periods are somehow shameful, and boys who remain clueless about it, as though it's never anything to do with them.
(It's bad enough that I was almost 20 years old before I understood that laxatives were to help with bowel movements. All those soft-focus Correctol ads with shots of droplets of water made me think that it was somehow supposed to make you pee more.)
I really think that the sooner we can get over the notion that there's anything scandalous about breastfeeding (or menstruation, or constipation), the better off we'll all be.
BONUS OPINION: It's Oreo's 100th anniversary this year, and it would not surprise me in the least to discover that this ad had been 'leaked' entirely on purpose. It's given Oreo a huge amount of publicity, and the mommybloggers have been mostly in favour of it - and if you don't know how powerful mommybloggers are these days, you haven't been paying attention.
---
Has the internet ruined TV commercials?
April 19th, 2012
...or am I just getting old?
The other day, my friend and former ad agency comrade Alanis and I were talking - via Twitter, of course - about the dismal state of television ads for yogurt, with specific reference to that terrible 'Find Your Source' series.
Alanis was referring to a fresh new disaster in this line, featuring a bizarre fruit-surrounded woman DJing her way to yogurt happiness, but I can't find it online. No matter, because the one I could find is just as representative of the genre:
However, the yogurt commercial that's been driving me nuts lately is the one for Yoptimal yogurt, which uses what must be the oldest trope in the commercial business: The star of the spot keeps 'ruining' each take because she's enjoying the product so much that she can't stop eating it.
Unfortunately, everyone involved with this spot is apparently so embarrassed by it that the best I can offer you is the thumbnail above - even the production company (Spy Films) doesn't have it on their website, and the ad agency (Bos) doesn't have it in their portfolio.
Why did this one stick in my mind? Because I remember this actress - Natalie Brown - starring in one of the most 'iconic' tv commercials of my youth:
(I do give her credit for looking almost exactly the same as she did 20 years ago. I don't know what she's doing, but it's clearly working.)
Those of you who are a certain age will no doubt remember this Heinz commercial. Slightly cheesy, but with a little story and a nice idea and decent casting.
But that's the thing: 20 years later, we can still remember this spot. When I went looking for her current yogurt commercial, it took me ages to figure out it was for Yoptimal - I finally had to find a list of Canadian yogurt brands and search each one of them until I got a hit. When people can't remember the product, and can't find the spot even when they're looking, your commercial has failed.
I know that television advertising has had to change in the past 15 years: When I first started working in ad agencies, 15 years ago, clients didn't blink at forking over $350,000 for a commercial or two, because everyone was watching tv and that's how you reached them. And everyone knew that, between ad agency fees, ACTRA contracts, and studio time, the costs just mounted up.
These days, everyone has a high-quality digital camera and iMovie on their computer, they're watching tv shows online where they can avoid commercials - so what company is going to spend hundreds of thousands of dollars on a tv commercial when they can crowdsource something for $1000? But while 'crowdsourcing' your commercial sounds like a fantastic idea when you're in the boardroom trying to impress everyone with just how iHipster you are, it very rarely translates into an iconic ad in the end.
Don't worry - I haven't turned into a curmudgeon here. There are plenty of interesting commercials happening - they just aren't making it on to television. They're living on the internet:
But it's kind of a shame, because it's making television even more annoying to watch than it already is.
---
Think of Yourself as a Chocolate Bar
April 12th, 2012
Or: How to create a personal brand, even if you don't think you're a unique snowflake.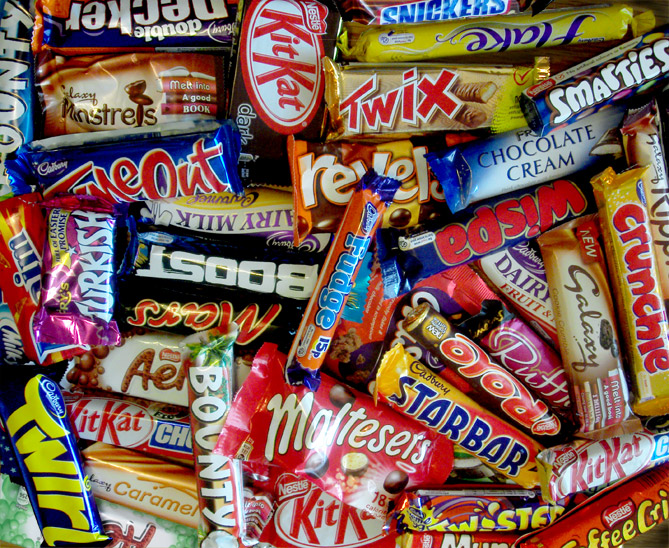 Photo from EpicureansAnswer.com, which has a great post on Top 10 Chocolate Bars.
I know - just what you wanted: Another blog post about personal branding. But for all that's been written and said about personal branding in the past 5+ years, I still find myself getting asked about it by people who are fantastic at what they do, but who aren't getting the recognition they deserve because they haven't really figured out how to build their own personal brand.
This is what I tell them.
Chocolate bars:
Four basic ingredients. Almost infinite positioning.
No industry has done a better job of branding a commoditized product than what the North American and British confectionery indutries have done with chocolate bars (or 'candy bars', if you're in certain parts of the USA).
Fundamentally, 99% of chocolate bars are exactly the same: Around 50g of the same four basic ingredients (chocolate, sugar, caramel and peanuts), combined in different ways.
And yet somehow we know that:
OHenry bars are for when you're really hungry
KitKats are for when you just want a 'break'
MARS bars are good energy for sporty lives
Smarties provide hours of amusement
Hershey bars are somehow as patriotic as a bottle of Coca-Cola
I find it amazing that there are so many ways to combine and package the same basic ingredients to create such distinct offerings.
It's time to start thinking of yourself as a chocolate bar.
It's my belief that anyone who takes their career seriously and is even moderately ambitious should create their own personal brand, even if they never want to start their own company or consultancy. Being 'known' for something is also a great way to get ahead in a 'regular' career, because it helps employers and potential employers reach that 'eureka' moment when they realize that you're a perfect fit for a particular role.
Spend too much time in the twitterverse or blogosphere and it's easy to think that everyone's creating personal brands all over the place these days. But in the real world, most people find it hard to deliver a compelling 2-sentence summary about why they're different and better, let alone come up with a personal brand. They know it's important; they just aren't doing it.
So what's stopping them?
Most of the time, it's that they don't really believe that they're all that different or special than everyone else.
"I mean, I know I'm pretty good at my job and I think I know a lot about what I do, but I'm not exactly a visionary," they tell me. "There are lots of other people doing what I do, and I'm not kidding myself that I'm some kind of genius. So what would my brand be about?"
Worrying that you're not a genius misses the point: Branding is all about turning a commodity product into a special, premium or beloved one. You don't have to be a 'genius'; you just have to position your professional equivalent of 50 grams' worth of chocolate, peanuts, caramel and sugar in a way that makes people think: "Whenever I need to solve [insert relevant business challenge here], I always think of [insert your name here] because s/he is an expert on [insert solution to relevant business challenge here]."
For example: "Whenever I think about branding in the small business space, I think about Sarah Welstead because she has done such great work for other companies I admire." (!!)
You already have a great USP.
You just don't know what it is (yet).
Here's the thing: If you really are good at what you do, are committed to getting better at what you do, and are genuinely passionate about what you do for a living, chances are you're already combining your 50g of basic ingredients in some kind of unique way - you just don't realize it.
So ask 5 colleagues (present and past) for their input:
Ask your boss why s/he hired you. What made you stand out from the other applicants?
Ask your manager what things s/he 'counts' on you to provide (interesting ideas, super-fast work, lateral thinking, etc.)
Ask your co-workers what they think you're particularly good at - and tell them to include even stuff that seems irrelevant, like "Somehow you always manage to fix the photocopier"
Ask subordinates/direct reports what they've learned from working with you (this one may be the most revealing, because you may find that you're highly respected for knowledge that you take for granted)
Ask a trusted client why they like working with you
You'll probably be pleasantly surprised by the responses you get - you may be inspiring or helping people in ways you never realized.
More importantly, once you know that colleagues think of you as a reliable partner or an inspirational leader, coming up with the basis of your personal brand will suddenly become a lot easier.
---
Tyger! Tyger! Burning bright
April 9th, 2012
Beautiful. Also, somehow, inexpressibly sad.
---
Jonathan Hobin - New Exhibition
April 8th, 2012
I've been looking at this photo for a couple of weeks now - it is the image featured on a postcard announcing Jonathan Hobin's new exhibit at the City Hall Art Gallery in Ottawa (March 16-April 29).
It's a disturbing image...more disturbing for me, maybe, since this is a photo of Jon's late grandfather, Bill Merrill, who I knew all my life. In the 1960s, my grandfather and Bill Merrill built cottages next to each other on the Ottawa River, and I tend to think of Jon as my cousin.
You may remember Jon's work from his 'In the Playroom' series which made headlines a couple of years ago because of the way it placed children in controversial 'reenactments' of tragic news events, like this one about the death of Jon-Benet Ramsay:
I've always been a big fan of Jon's work - and of course now that he's being famous all over the place I feel quite happy that I have some of my very own Jonathan Hobin Originals around here. One day I'll be a little old lady on Antiques Roadshow, showing off the photos Jonathan took of me when I was young, and I'll look like I had a far more interesting past than I really do.
---
The Only PowerPoint Slide You Really Need
April 7th, 2012
We found this PowerPoint slide back in 2000, when our whole lives seemed to be just one big PowerPoint presentation. I still think it's the best one ever, with its gradient fill background and customized bullets.
PROTIP: If you put it somewhere in Hour 2 of your presentation, no one will really notice.
(NOTE: I wasn't sure where this came from, since it's been on my hard drive forever. But I just did a search and I think it originated here.)
---
Advertising is Not Evil
April 4th, 2012
People who think advertising is a new thing that is somehow 'evil' haven't read any history books lately.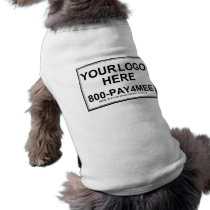 I've borrowed this excellent image from Zazzle.com, where you can make customized stuff in small quantities. They'll be less annoyed about this if you click here to visit their site!
(Today I ran into someone I knew in high school and they seemed appalled that I'd ended up in marketing, so I dug this up from my old blog on ERE.net and I've reprinted it here. It was originally part of a series on personal branding, but I think it works fine by itself.)
Advertising: The profession everyone loves to hate
I've spent my entire working life in 3 industries that people think are filled with cheats, charlatans and idiots: Real estate, advertising, and recruiting.
So I'm used to the faces people make - as though they'd just sucked on a particularly sinful lemon - when they hear what I do for a living. Many people can't restrict themselves to just the faces, either, and are happy to tell me that all real estate agents/advertising people/recruiters are shallow, materialistic, fake, incompetent, mean, and self-absorbed.
If I'm meeting them at, say, a dinner party where the other guests work in non-profits, government, academia or healthcare, there often ensues a lengthy discussion on how advertising types - and the evil corporations they represent - is pretty much responsible for the downfall of society.
The anti-branding position goes like this:
"If marketing people didn't keep trying to convince people that they 'needed' 8 televisions, 3 cars, a 4000 sq foot home with a 100-ft frontage, several $1000 handbags and a perfect size 2 figure, we'd all be much happier, society would be a meritocracy, eating disorders would be eliminated, and China would have uncensored internet access."
Thanks to the popularity of Mad Men, this is usually followed up with some comment about how shady advertising types are a recent invention of the past 50 years, and that we need to be stamped out before the sky actually does fall in.
Except that's not really true...
Let's just break it down:
"...8 televisions, 3 cars, a 4000 sq ft home, etc."
Guess what? Once you have enough to eat, are safe from predators, have a roof over your head and sufficient clothing to keep from dying of exposure, everything else you own is just stuff you want, not stuff you need.
"...with a 100-ft frontage..."
The human desire for land precedes advertising agencies by about 10,000 years, as evidenced by about a zillion wars over various patches of ground throughout the whole of human history.
"...we'd all be much happier, society would be a meritocracy..."
If there were any actual examples, in all of recorded human history, of societies in which happiness was rife and a meritocracy prevailed, I'd have an easier time believing this.
"...eating disorders would be eliminated..."
I hate unrealistic airbrushed models as much as anyone, but eating disorders have been documented since the Middle Ages, and there's evidence to suggest they've been around for more than 10,000 years.
"...advertising types are a recent invention of the past 50 years..."
Advertising and marketing has been around as long as humans have - archeologists have found evidence of marketing messages in Ancient Greece and the Middle Ages, and classified ads in Ancient Rome. The first clear-cut examples of 'modern' advertising in the 15th century, and the first newspaper ad appeared in 1622 or so.
In other words: As soon as the first human wanted to get other humans to 'do stuff' (help with the boar-killing expedition, believe in their god, buy their corn, or fight their war), marketing's existed.
What have we learned?
Since human society has managed to survive - nay, thrive! - 10,000 years of marketing and 500+ years of advertising, I feel certain that society is in no imminent danger of collapse.
---
Just Stop Calling Yourself a Professional Website Designer
April 1st, 2012
You may be getting paid to design websites.
But if you're doing any of these things, it's time to stop calling yourself a 'professional'.
Don't know who created this, but I found it here.
In many ways I'm lucky: I've worked on website projects for more than 15 years now, and I'm married to a web developer who knows a lot about all kinds of different coding languages. So while I don't design websites myself, it's pretty tough for an unscrupulous web designer to pull a fast one on me and leave me with a hideous, broken, or grossly overpriced website.
Unfortunately, I'm feeling like I'm in a tiny minority. In the past couple of weeks I've come across a number of new clients - and businesses which can't afford to be new clients, because they just spent their whole marketing budget on a disastrous website - who are in big trouble because they put their faith in someone who claimed to know what they were doing, but didn't.
Thanks to tools like WordPress, designing and building (basic) websites is easier (and cheaper) than it's ever been. That should be great news for clients, but instead it seems to have created a whole army of nincompoops who think that anyone who's able to download a WordPress template and stick the client's logo at the top is suddenly a 'professional' web designer.
It's making the rest of us look bad, and I want you to stop.
7 ways to know that you should stop calling yourself a professional website designer
In case you're not sure if you're actually a 'professional' website designer or not, I offer these 7 criteria. If you're doing any of these things, to any of your clients, just stop right now. Go find another career. In fact, I'm pretty sure you're going to have to find another career sooner or later, because your clients aren't as stupid as you think, and eventually they'll wake up to your nonsense.
1. You play fast and loose with your client's logo
If you can't manage to use your client's logo on a website without stretching it, changing the font on the tagline, or using it consistently across different website pages, you need to think about being an accountant or something, because your sense of aesthetics is insufficient for any career involving the word 'design'. Your client's logo is often the basis of their brand equity, and for small businesses it may be all they've got. Change it and at best you make them look unprofessional; at worst you've cost them real money.
2. You start using random colour schemes that have nothing to do with the client's brand identity
I've written about this before: When you start injecting new colours all over the place, you dilute the client's brand identity and set a pattern of inconsistency that can cause a whole lot of problems. Yes, it can be hard to create an engaging website if the client's logo is monochromatic - but it's up to you to identify that challenge and help the client develop an official colour palette. Adding random rainbow backgrounds is not the answer.
3. You use all kinds of different fonts...
...and then pretend not to know what the client means when they say their website "doesn't seem to look cohesive, somehow".
I got a call this week from a couple of women who were frustrated with the look of their new website but they didn't know why and their website designer wasn't returning their calls. The biggest problem? There were 4 different fonts on the homepage alone, none of which was the font actually used in their logo+tagline image. It's one thing to use a serif for the headings and a sans-serif for the body copy, just to offer a little visual interest, but more than that and the whole thing starts to look like a random collage. And you should know better.
4. You grab random stock photos and then don't bother to customize them in any way
Ah, stock photography and the internet. In many ways it's great: These days, you don't have to spend $10k on custom photography when you need shots of people on a beach or something. But stock photography almost always looks like stock photography: People can tell that that attractive, culturally diverse group of people gathered around a computer screen, with strong blue tones and a white background is something you found on iStock.
It makes the site look generic, and worse, makes people wonder if the content on the site is similarly generic. It's fine to use stock photos - just make sure you make them your own.
5. You lie to your client because you assume they're too stupid to know any better
The client is not stupid. In fact, the client may be a whole lot smarter than you are, and more than capable of creating their own website if they weren't so busy conducting symphonies or finding a cure for malaria. So don't lie to them just because you think anyone who doesn't know the difference between html and a CSS must be an idiot. If you can't bring yourself to refrain from lying simply on moral grounds, consider this: Sooner or later your client will figure out that you're not being honest with them, and they'll call someone like me instead.
6. You tell the client that something "isn't possible" when the truth is you just don't know how to do it
The bottom line is that when it comes to websites, almost anything is possible, given sufficient brainpower, time and budget. Sometimes you're on a deadline; sometimes the client just doesn't have the budget. But if you're telling the client stuff like "WordPress doesn't allow you to change the background colour" or "Flash and html don't work on the same website" or "It doesn't matter if the site doesn't work in Firefox - no one uses that any more" simply because you don't know how to solve the problem, you're lying, and you need to stop it (see #5).
7. You refuse to give your client their files or passwords even after they've paid you for the work
Among real professionals, the industry standard is that once a client has paid you in full for your website design, they own it. That means they own the files, the access to those files, the images, the passwords - everything, unless you have a prior agreement in writing. Refusing to give them these things (or not bothering to get back to them when, a year from now, they need something from you) in order to keep them beholden to you is unethical - and could set you up for legal consequences.
And that's what I have to say about that.
---