When the plebes start buying your brand, do you have a problem?
August 19th, 2011
A couple of years ago, when Rock'n'Republic jeans were all the rage, a girlfriend called me in tears.
"I can't fit into any of the RnR jeans," she wailed. "They only go up to size 31. Why would they do that?"
Because the only way to get people to fork out $300 for a pair of jeans is to convince them that they're buying into some kind of aspirational lifestyle, and you can't maintain that fiction if "ugly fat people" are parading around with your logo on their bums.
(Don't freak out - I put "ugly fat people" in quotes to make it clear that it's not me making that judgment, but the people who make these products. Being size 32 in jeans definitely does not make you fat or ugly.)
But here's the thing: Emaciated LA-types represent a minority of the population, and they are extremely fickle, so restricting your target market to anorexics with an excess of disposable income is virtually guaranteed to limit your long-term growth. And when was the last time you saw someone wearing RnR jeans, or expressing a desire to buy them?
The Abercrombie & Fitch vs. Jersey Shore media frenzy
This week, clothing retailer Abercrombie & Fitch generated a whole lot of PR for itself by making public an offer to pay the cast of Jersey Shore not to wear its clothes any more.
(Interesting sidebar: Two weeks ago, we had a friend from Germany staying with us, and on his list of things to do was a trip to A&F to pick up some clothes, since he can't get them in Germany. My reaction was so negative - and I did, in fact, reference the idiots on Jersey Shore - that he ended up not going. But in Europe, A&F is still an aspirational brand, and considered 'cool'.)
At first I thought the whole thing was a brilliant PR stunt. Then I wondered whether it wasn't a little short-sighted, serving only to cement the relationship between the brand and the cheesiness of Jersey Shore forever - I mean, has Ed Hardy ever really recovered from the whole Jon Gosselin association?
And then I thought about the Rock'n'Republic example, and about how popular Jersey Shore is, and I realized that (a) if you don't keep the plebes buying your stuff, you can't keep growing; and (b) if A&F could survive that piece of cheese, 'Summer Girls', the whole Jersey Shore association was probably a perfectly intelligent business decision.
The genius of Tiffany & Co.
As far as I'm concerned, the winner of the 'aspirational vs plebes' balancing act has to be Tiffany & Co. Somehow they've managed to maintain their position as a super-high-end brand, appealing to the Birkin bag set as a suitable place to buy a $25k engagement ring and a $2500 wedding present, while also selling masses of $100 bracelets to the plebes.
How have they managed this?
I think it's a combination of factors:
The brand has resided squarely in the 'luxury' segment of the market for 175 years, so they're less susceptible to the whims of the marketplace
Their pop culture references have tended towards the classic ("Breakfast at Tiffany") rather than shoutouts in rap songs
The cheapest thing they sell (on the Canadian website, anyway) is a $105 keychain - and $105 is still a fairly high entry-level price point
They have resisted the temptation to trade credibility for short-term sales gains: It's highly unlikely you'll see Tiffany in a product placement on Keeping Up With the Kardashians any time soon
So even as they've gained a huge following among teenaged girls, they haven't lost equity with their 50-year-old mothers. Which means that 20 years from now, Tiffany will likely have a healthier balance sheet than Abercrombie & Fitch.
---
Why aren't more companies advertising on podcasts?
August 8th, 2011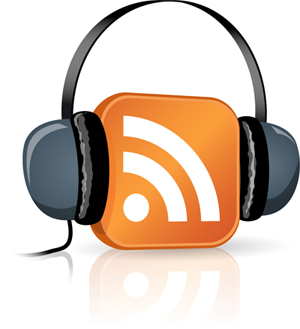 There's no more intimate experience than listening to a voice in your ears through headphones.
Think about the passionate relationships you have with the music you love. In most cases, those relationships didn't happen when you were listening to the music in a public setting, or even on speakers - it happened when you were all alone, listening to the music through your headphones, and it seemed so personal.
Podcasts are like that. You start listening, while you're walking the dog or trying to sleep, and pretty soon you have a relationship with this voice in your ears.
Relationship. The magic word that all marketers and advertisers like to hear. And it's a one-on-one relationship, which makes it extra-appealing to marketers, who are always looking to reach consumers in an intimate way like that.
It's hardly ever a one-time thing
The thing with podcast listeners is that they're loyal. Once you find a podcast you like - a voice in your ears that you develop a relationship with - you go back and listen to their whole back catalog, you subscribe to their new podcasts...it's a long-term relationship you're building.
Advertisers are looking for two things: Reach and frequency. 'Reach' is how many people you're reaching with a particular message; 'frequency' is how many times an individual person is getting hit with your message. Podcasts may have limited reach (at least so far) but they definitely have great frequency.
So why isn't there more advertising on podcasts?
I listen to a lot of podcasts. A lot. In fact, I think it's the only reason my dog isn't 102 pounds - it's easier to face a couple of hour-long walks every day when you've got something interesting to listen to. It also helps with the tedium of housework, public transit, insomnia - I'm not sure how I ever got the laundry folded before the advent of podcasts.
I listen to a wide variety of podcasters:
There are lots of others, but this'll do to get started.
Of all of these, the only one that consistently has any advertising is the Dave Gorman podcast - they do a regular segment within the podcast promoting Kronenbourg 1664 beer. The AnswerMeThis podcast had a brief promo for Audible.com (a perfect fit in my opinion, since people who listen to podcasts are likely to listen to audiobooks too) but it's gone now.
It's great to be able to listen to 30-60 minutes of entertainment without commercial interruptions and all, but as I listen to these podcasts, week after week, I can't help thinking that advertisers are mising a huge opportunity.
So what's the problem?
Well, I think the biggest problem is that there aren't any comprehensive download statistics for podcasts. The BBC, as a public company, posts stats for their podcasts, but iTunes doesn't (they have lists of 'top' downloads, but no numbers), and the individual podcasters themselves don't seem inclined to reveal stats (I've emailed a couple of my favourites, asking for info - so far not one of them has responded).
The other problem is that podcasts tend to be very international: One of my favourite podcasts is Scotland's Funny Bits, and it's interesting to note that most of the reviews for it on iTunes seem to be from Canadians. So podcasts are a great channel if you're advertising a product that's available online (like Audible) or internationally (like Kronenbourg), but possibly less appealing if you need to reach a local market.
There's a huge opportunity here
There are lots of podcast directories out there; I don't know why someone hasn't created a podcast statistics directory or advertising agency yet. (Maybe they have. But I can't find it.)
Remember what happened with bloggers? Once smaller bloggers got themselves aggregated into networks, provided statistics and a demonstrated niche audience, they suddenly became much more attractive to advertisers. I don't know why this isn't happening with podcasters. I know the BBC figures aren't necessarily indicative of the average podcast, since they have a certain basal built-in audience, but there are more than 1 million downloads of the Friday Night Comedy show every month - and the demographics for that show aren't 'kids with iPods', either. (Yes, I'm aware that the BBC has stricter advertising rules than other organizations. I'm using these shows as an indicator of audience levels.)
And I wouldn't mind getting my message into 1 million pairs of ears every month.
---
Yeah, okay, I haven't blogged in a while
August 6th, 2011
I do a fair amount of blogging for clients (no, I won't tell you who they are) and sometimes I just run out of things to say. I can't believe I'm saying that, and probably neither can most of the people who know me in real life, but there you go.
The situation has been complicated by the fact that the 'return' key on my Blackberry has stopped working, which means that my 'Blog Ideas Notes' file has turned into an unreadable James Joycean stream-of-consciousness text glob which is doing little to inspire me.
However!
I have noticed that people who get recognized as Great Bloggers aren't the ones who wait around for Big Ideas to hit them. They are simply the ones who write what they're thinking about that day, even if it's not exactly genius (or at least not every time). Anais Nin made a whole career out of it, even before the internet. And I certainly think about something every day.
---